HANOI - The Philippines claimed three gold medals but remained fifth overall at the 31st Southeast Asian Games (SEA Games) here on Friday.
Blacklist International ruled the Mobile Legends: Bang Bang tournament at Vietnam National Convention Center, followed by Tokyo Olympic gold medalist Hidilyn Diaz's win in the women's 55-kilogram (kg) weightlifting event at Hanoi Sports Training and Competition Centre.
Blacklist International took down Indonesia, 3-1, in the best-of-five finals, while Diaz beat fellow Olympic champ Sanikun Tanasan of Thailand.
Judoka Shugen Nakano bagged the country's third gold with a victory over Hoang Phuc Truong of Vietnam to retain his men's 66 kg title at Hoai Duc Gymnasium.
As of 8:30 p.m., the Philippines has 43 gold, 59 silver, and 82 bronze medals, trailing the host (163-97-93), Thailand (66-74-106), Indonesia (48-68-63), and Singapore (47-44-62).
National team chef de mission Ramon Fernandez said third place is still possible.
"If we all work hard as one, we will win as one. This is not the time for us to be discouraged since reclaiming No. 3 is still very much possible. Our athletes can do it with God's help," Fernandez said in a news release.
Billiards assured the Philippines of two more gold medals in Saturday's two all-Filipino duels in 10-ball singles.
Chezka Centeno and Rubilen Amit will square off in the women's event at 10 a.m. at Ha Dong District Sporting Hall while newly crowned 9-ball champion Johann Chua and Carlo Biado clash at 2 p.m.
Similarly, two Filipino pairs will take on each other for the men's tennis doubles gold medal at Hanaka Sports and Service Center.
Ruben Gonzales and Treat Huey beat Vietnam's Giang Trinh Linh and Mihn Tuan Pham, 6-4, 6-2, to arrange the final duel with their 2019 tormentors, Jeson Patrombon and Francis Casey Alcantara, who scored a 6-4, 6-4 triumph over another Vietnamese pair, Quoc Khan Le and Vn Phuong Nguyen.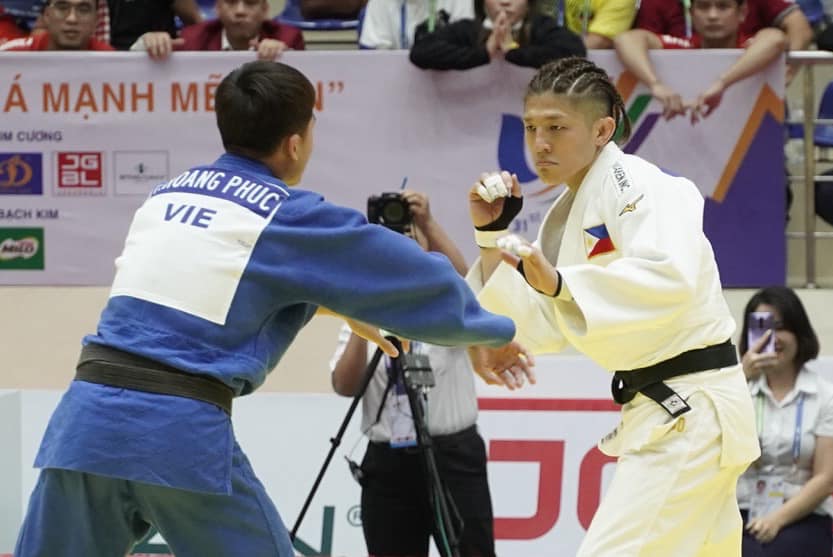 Favorite event
Also on Saturday, the Gilas Pilipinas men's basketball squad battles Malaysia at 11 a.m. at Than Tri Gymnasium, two hours after the women's squad goes for its fourth straight win versus Singapore.
"We all know that the big test is Indonesia but we can't look past Malaysia," coach Chot Reyes said.
After playing for four straight days, Gilas will go into the game recharged by a one-day break after scoring a 118-87 win over Vietnam on Thursday for its fourth straight victory in the six-team tournament. (PR)