by Genevieve Balance Kupang
Wishing everyone a meaningful and joyous International Day of Peace on September 21st!
In the previous article in this series entitled "Pathways to Peace Honors Extraordinary Women for Their Dedication to Peace," we introduced you to the remarkable Omam Esther, whose unwavering commitment to peace left an indelible mark. As we continue this empowering journey, we now turn the spotlight to another extraordinary advocate, Kasha Sequoia Slavner, whose inspiring story and dedication to peace will be featured in the second installment of our four-part series. Join us in celebrating these exceptional women, as their stories illuminate the path to a more harmonious world. In case you missed the first series, here is the link: https://www.pressenza.com/2023/09/pathways-to-peace-honors-extraordinary-women-for-their-dedication-to-peace/.
In a world plagued by complex issues such as climate change, nuclear disarmament, and global conflicts, young individuals like Kasha Sequoia Slavner are emerging as beacons of hope and agents of change. Hailing from Toronto, Canada, Kasha Sequoia Slavner has been recognized for her exceptional commitment to peacebuilding and her tireless efforts to address the pressing challenges facing our planet. As the winner of the Young Exceptional Woman of Peace Award, she exemplifies the spirit of youth-led activism and a dedication to creating a more peaceful and sustainable world.
A Young Advocate for Peace:
Kasha's journey as a peace advocate began at the tender age of 8. Growing up with a single mother who founded a legal support center for abused women, Kasha was immersed in a world of social justice and empowerment from an early age. At 14, she joined The Canadian Voice of Women for Peace, becoming its youngest member, and attended the 58th UN Commission on the Status of Women as part of the youth delegation. This experience profoundly influenced her approach to peace and feminism.
Kasha's commitment to peace led her to establish The Global Sunrise Project, a positive impact media hub. At just 16, she convinced her mother to let her take a year off from school to travel and create her first documentary, "The Sunrise Storyteller." This film went on to win numerous awards, including the Ron Kovic Peace Prize and the Eva Haller Women Transforming Media Award.
Empowering Youth for Civic Engagement:
Kasha's work extends beyond filmmaking. She developed a workshop titled "A GenZ's Guide to Creating Social Change" and curated two large-scale photography exhibitions, "Travels into the Heart" and "Picture 16 - About SDG 16." Through these initiatives, she empowers the youth to engage actively in civic matters and advocate for change. Her dedication to peace was further recognized when she became the recipient of the inaugural youth Kim Phuc Award for Peace, an award named after a fellow peace advocate featured in her film.
Tackling the Intersection of Peace and Climate Justice:
Recognizing the urgency of the climate crisis and its intersection with peace, Kasha embarked on a new documentary project, "1.5 Degrees of Peace." This documentary showcases the journeys of underrepresented youth activists who are working tirelessly to bridge the gap between disarmament, peacebuilding, and climate justice. The trailer for this documentary won first prize in the Robert F. Kennedy Human Rights Foundation short film festival in Switzerland, drawing international attention to the critical link between climate and peace.
Advocating for Peace in Climate Spaces:
While attending major environmental conferences like COP26 and COP27, Kasha noticed the absence of discussions on peace in the climate conversation. Undeterred, she utilized her platform to raise awareness about the security issues stemming from the growing climate crisis. As a Young Leader for Tomorrow with the UN Office for Disarmament Affairs, she has expanded her reach to help others navigate the landscape of storytelling for social change.
Kasha is actively engaged in co-creating educational and impact outreach campaigns with the subjects of her documentary. These campaigns aim to reach diverse audiences, from the general public to high-level policymakers, to inspire collective action for peace and climate justice.
The Importance of Peace Work:
As a member of Generation Z, Kasha understands the multiple existential threats facing her generation and the planet. Her work seeks to inspire and empower people to pressure world leaders, policymakers, local politicians, businesses, educators, and institutions to enact the necessary changes for a peaceful and sustainable future. She firmly believes that peace is the foundation upon which all positive change can be built.
Overcoming Challenges:
Kasha's journey as a peacebuilder has not been without its challenges. As the founder of a youth-led organization, she has faced financial constraints, with a significant portion of her work being unpaid due to limited resources. However, her resilience, creativity, and dedication have allowed her to overcome these barriers. She has forged valuable relationships, sought community support, and utilized crowdfunding to advance her projects.
Motivating Others for Change:
Kasha's work as a storyteller is focused on engaging and motivating others through solution-oriented narratives. She recognizes the power of film and storytelling to inspire hope and action. Kasha's multi-pronged approach, including photography exhibitions, workshops, and online campaigns, has successfully engaged the youth and a global network of activists.
Impact and Results:
Kasha's impact can be seen in the increasing recognition of the interdependence of peace and climate justice. Her documentary trailer has sparked conversations and initiatives at both grassroots and international levels. Her work has influenced discussions at events like COP28, where peace has officially become part of the program's thematic days.
To conclude, Kasha Slavner, the recipient of the Young Exceptional Woman of Peace Award, stands as a remarkable example of youth-led activism and dedication to peace. Her work transcends borders and challenges traditional narratives by emphasizing the critical link between peace and climate justice. As a Gen Z peacemaker, Kasha inspires others to join the global movement for a more peaceful and sustainable future.
Kasha's journey as a young peace advocate and filmmaker serves as a testament to the power of youth-led initiatives in building a more peaceful and sustainable world. Her work continues to inspire and motivate individuals of all ages to join the movement for peace and climate justice.
Pathways to Peace extends heartfelt gratitude to all who joined us during the awards ceremony. We also take this opportunity to celebrate the invaluable contributions of women peacebuilders worldwide. Stay tuned for the upcoming account in this series where we will feature Haifa Shawkat from Yemen, another remarkable Young Woman Peace Awardee.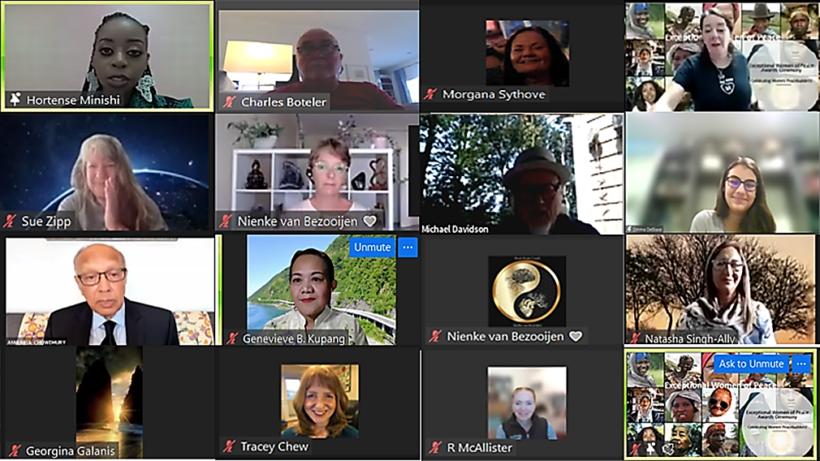 About the Author: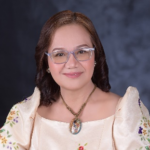 Genevieve Balance Kupang is a Leadership Team Member for the Exceptional Woman of Peace Award at Pathways to Peace, a UN Peace Messenger Organization. She serves as the Dean of the Graduate School at Baguio Central University. She plays a pivotal role as the Chair of the Special Interest Groups and Peace Education Coordinator of the World Council for Curriculum and Instruction. Long-standing peace advocate collaborating with various organizations including CBCP Episcopal Commission on Interreligious Dialogue, Silsilah Dialogue Movement, Mandala Peace Arts Initiative, Humanist Movement, May Peace Prevail on Earth International, Lingap Canada, Uniharmony Partners Philippines, Sandiwa, among others.
Source: Pressenza