by Genevieve Balance Kupang
In our ongoing series titled "Pathways to Peace: Celebrating Exceptional Women for Their Peaceful Dedication," we have had the privilege to introduce two remarkable individuals, Omam Esther and Kasha Sequoia Slavner Both have carved enduring legacies through their unwavering devotion to peace. As we progress on this enlightening odyssey, we shift our focus to yet another exceptional champion, Haifa Shawkat who hails from Yemen. Her captivating narrative and tireless commitment to fostering peace will take center stage in this, the third installment of our four-part series. In case you missed the first and second series.
Here are the links: https://www.pressenza.com/2023/09/pathways-to-peace-honors-extraordinary-women-for-their-dedication-to peace/. https://www.pressenza.com/2023/09/pathways-to-peace-honors-extraordinary-women-for-their-dedication-to-peace-part-ii/.
Haifa Shawkat: Empowering Yemeni Women for Peace:
In the strife-ridden landscapes of Yemen, where the echoes of conflict have reverberated for years, there shines a beacon of hope and resilience named Haifa Shawkat. Haifa is not just a peace activist; she is a trailblazer, a symbol of determination, and a driving force behind the empowerment of Yemeni women. Her unwavering commitment to peace and her remarkable journey has earned her the Young Exceptional Woman of Peace Award.
Bridging Divides Through Dialogue:
As the president of the Peace Initiative in Yemen, Haifa Shawkat has been at the forefront of efforts to bridge the divides in her war-torn homeland. Her initiative focuses on facilitating dialogues among the various stakeholders in the Yemeni conflict, under the auspices of international civil society. It is a challenging and courageous endeavor, as Yemen's tribal nature and ongoing conflict have marginalized women and youth in the country.
Haifa recognizes the importance of including women and young people in the peace process, even in a society where traditional gender roles often dictate that women should stay at home. She has made it her mission to advocate for the rights of Yemeni women to participate in politics and contribute to the peacebuilding efforts in their country.
Breaking Barriers and Facing Threats:
Haifa's commitment to peace has not been without its challenges. In Yemen, being a woman in the male-dominated political landscape is a formidable barrier in itself. She had to prove her worth, resilience, and capabilities to gain recognition and acceptance from the parties involved in the conflict. Initially, her youth and gender were reasons for her exclusion, but she persisted for over a year until she finally secured the opportunity to contribute.
However, the challenges didn't stop there. Haifa faced threats, psychological abuse, and even physical harm due to her activism. She was labeled as an agent of foreigners and subjected to tremendous pressure. Despite all this, she stood her ground, refusing to be intimidated or deterred from her mission. Her determination and resilience became a source of inspiration not only for Yemeni women but for peace activists worldwide.
Inspiring the Next Generation:
One of Haifa's greatest achievements has been her ability to engage and motivate others, particularly young Yemeni women, to join her in the pursuit of peace. She recognizes that there are many talented young women in Yemen who lack opportunities and support. Haifa's journey has transformed her from a lone fighter into a mentor and motivator who empowers other young women to participate in politics and peacebuilding.
Through her Peace Initiative, she has successfully involved thirty young Yemeni women in the peace process, providing them with a platform to make their voices heard. Her dedication has not only influenced individuals but has also garnered support from various Yemeni political parties for a Yemeni-Yemeni dialogue sponsored by the international civil society-an achievement she is rightfully proud of.
A Silent Hero of Peace:
Haifa Shawkat's tireless efforts have not gone unnoticed. She is currently sponsoring informal negotiations between the conflicting parties to participate in a Yemeni-Yemeni dialogue, endorsed by all Yemeni political parties. This quiet, determined activist is working diligently to ensure that the dialogue continues without external interference. She views her achievements as just the first step towards a peaceful Yemen.
Her commitment and accomplishments have been recognized not only by her peers but also through media coverage and various news outlets. Her work is a testament to the fact that change is possible, even in the most challenging circumstances.
Connect with Haifa Shawkat:
For those interested in following Haifa Shawkat's remarkable journey and supporting her cause, you can connect with her on Twitter via @HaifaShawkat. Additionally, you can learn more about her work through the following news articles:
Bawabatii: "Haifa Shawkat's Initiative: Yemeni Women Participate in Peace Process"
Al-Wattan: "Haifa Shawkat's Efforts in Promoting Peace in Yemen"
Yemen Now News: "Haifa Shawkat's Contributions to Peacebuilding"
Haifa Shawkat's journey is a testament to the power of resilience, determination, and unwavering commitment to peace. She stands as a shining example of how an individual's actions can bring about positive change even in the most challenging and tumultuous of times. Haifa's work is an inspiration to us all, and she is truly deserving of the Young Exceptional Woman of Peace Award. Her story reminds us that the pursuit of peace is a collective responsibility. And together, we can make a positive impact in our world.
About the Author: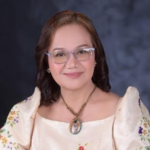 Genevieve Balance Kupang is a Leadership Team Member for the Exceptional Woman of Peace Award at Pathways to Peace, a UN Peace Messenger Organization. She serves as the Dean of the Graduate School at Baguio Central University. She plays a pivotal role as the Chair of the Special Interest Groups and Peace Education Coordinator of the World Council for Curriculum and Instruction. Long-standing peace advocate collaborating with various organizations including CBCP Episcopal Commission on Interreligious Dialogue, Silsilah Dialogue Movement, Mandala Peace Arts Initiative, Humanist Movement, May Peace Prevail on Earth International, Lingap Canada, Uniharmony Partners Philippines, Sandiwa, among others.
Source: Pressenza